What is luxury?
Uwe Ahrendt thinks is emphasis on quality and craftmanship
Uwe Ahrendt
CEO of NOMOS Glashütte a luxury watches brand known for its minimalist design palate, accessible in-house movements and collaborations with designers from outside the watch world.
How do you think the luxury consumer has changed?
We believe that the concept of luxury has changed a great deal in recent years. Excess, abundance and hedonism, which derived from Latin and is one of the definitions of luxury, are subject to more and more scrutiny; customers are placing more emphasis on quality, sustainability, and in choosing the right products in appropriate amounts. Less can definitely be more—and very luxurious indeed.
"Quality materials, skilled craftsmanship, and carefully-considered design. This is our definition of luxury"
In our experience, when it comes to watches, customers increasingly value the freedom to select the right timepiece for themselves. It must be of outstanding quality, so that it lasts a lifetime, works accurately, and delights the wearer. These characteristics can only be achieved if products are well made, using quality materials, skilled craftsmanship, and carefully-considered design. This is our definition of luxury. But of course, it is not only our idea: More and more people around the world share this concept of luxury. NOMOS Glashütte simply embodies this contemporary understanding of luxury with its watches. In this regard, the world is joining us.
The concept of luxury is heavily dependent on the culture of the person who defines it. In your life and travels, do you encounter differences in meaning?
It seems to me that in developing economies, such as the BRICs and many eastern European countries, they prefer a more ostentatious form of luxury—one that is gradually falling out of favour in western Europe.
Which qualities would you say are the vital foundations of an authentic luxury product, service or experience?
An item will only stand the test of time if it is well made. That requires skilled craftsmanship, quality materials, and carefully-considered design. I am convinced that these are the attributes of true luxury.
When you conceive and create a luxury product or service – what essential elements must be present?
To start with, it requires a well-thought out and inspiring concept that serves as the foundation for the new watch. What kind of mechanism is within, which characteristics should it have, and who is it designed for? Then it is a question of developing this concept with dedication, perseverance, skill—and quality materials. Teamwork at its best is what brings all these aspects together.
How does your business view the range of growth opportunities within the emerging field of "sustainable luxury?"
It is very important for NOMOS Glashütte—and it is an area in which wider trends are aligning more and more with our values. After all, our brand has always represented 'sustainable luxury', so I find this development very positive. In my opinion, a watch is not a piece of fashion; it is a tool for life. Of course, we are delighted when customers love watchmaking and our craftsmanship so much that they own more than one timepiece. But these are items made to last; a small piece of art for the wrist, which will last for the decades and generations to come.
Luxury can seem contradictory – the rarity of a desirable product is part of its appeal, and yet luxury is becoming more accessible – how do you view this delicate balance and the democratisation of luxury?
I believe that pricing should not be the main focus when it comes to luxury goods. The decisive factor is quality. When it comes to our watches—largely crafted by hand by skilled watchmakers in a long and complex process—it is clear that only a limited amount can be made. We will never be in a position to produce huge numbers. On the other hand, we are not only making two or three a month; we want to offer all those who would like to own a NOMOS timepiece the opportunity to do so. It's a question of balance, of finding a place between two extremes.
Savoir vivre, sophistication and an appreciation for quality—these are only a few of the many terms that could be used to describe the concept of luxury that we and our customers subscribe to. An appreciation of value, rather than material acquisition for its own sake.
"Our brand has always represented 'sustainable luxury', so I find this development very positive. In my opinion, a watch is not a piece of fashion; it is a tool for life."
What are the main challenges of luxury brands at this time?
I think that many brands today are at risk of losing their mystique. Price and quality often bear no correlation to each other, with marketing bridging the gap—but in the long term, this approach undermines the strength of a brand.
Could you choose one word to describe luxury now?
What is one luxury you couldn't do without?
How do you see the evolution of luxury and where is it heading next?
I think that the image of luxury portrayed by abundance and opulence is coming under increasing scrutiny. It will become more difficult to impress with items that are simply expensive. The new approach to luxury is more personal, with a greater emphasis on quality and craftsmanship. There has to be a justification for it. Of course, other trends will emerge in the future as well—but spending money for its own sake will become increasingly unappealing to more and more people around the world.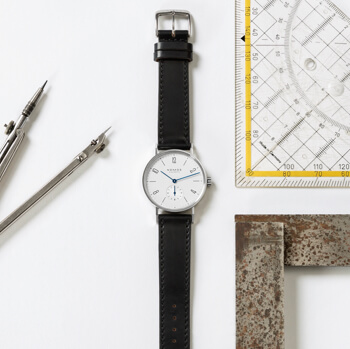 "A small piece of art for the wrist, which will last for the decades and generations to come."